PABLO — From 2016 to 2021, the Confederated Salish and Kootenai Tribes (CSKT) Economic Development Office managed a Workforce Enhancement and Entrepreneurship Initiative funded by a grant from the Administration for Native Americans (ANA). The Initiative concluded in September. The following is a summary of the project and its results.
The Initiative was funded by a Social and Economic Development Strategies (SEDS) Sustainable Employment and Economic Development Strategies (SEEDS) grant. Through this SEEDS grant, CSKT worked to address the high unemployment rate of Native Americans on the Flathead Indian Reservation which was at 20 percent at the start of the project, more than two times that of non-Natives on the Reservation at 8 percent unemployment. 
Along with this employment disparity, the decision to conduct this project came out of data collected during a previous ANA grant-funded survey of Tribal members who identified barriers to employment such as lack of access to phones, computers, the internet, transportation and training. The project goal for this SEEDS grant was to create a Native American workforce capable of accessing emerging employment and entrepreneurship opportunities to support sustainable livable-wage employment on the Reservation.
The project began by establishing a Tribally-administered Workforce Enhancement Resource Center to provide Tribal members with job-seeking and business development assistance. Project Director Janet Camel set up a small computer laboratory and built partnerships with 5 employers and nine workforce enhancement providers to form a Workforce Enhancement Coalition that met monthly throughout the project. Coalition members include S&K Business Services, Mission West Community Development Partners, Salish Kootenai Housing Authority, Job Service Polson, the Montana Department of Commerce, local healthcare providers, and multiple CSKT departments.
Camel negotiated a Memorandum of Agreement (MOA) with Salish Kootenai College (SKC) to build curriculum over the five-year grant period, and offer Tribal members and members of other tribes a series of stackable training certificates that qualified people for jobs or higher pay at their current job.
Sixty-seven tribal members completed at least one of these courses, with certifications offered in four main areas: 1) health care training in certified nursing assistant (CNA), phlebotomy, home health aid, emergency medical technician, medical assisting, medical billing and coding, and dental assisting; 2) building trades; 3) sports officiating; and 4) hospitality training which also offered a Gold Star Customer Service course. SKC's Stacey Sherwin, Dan Durglo and Terrace Stewart worked diligently to get this curriculum established.
In addition, 396 members attended at least one of the 101 workforce enhancement and entrepreneurship training classes set up by Camel who found instructors to provide training in personal finance, soft skills, business basics, social media marketing, government contracting, apprenticeship opportunities, and more. SKC's Terri Cordier set up an adult driver's education class and helped provide Continuting Education credits for most of these training classes.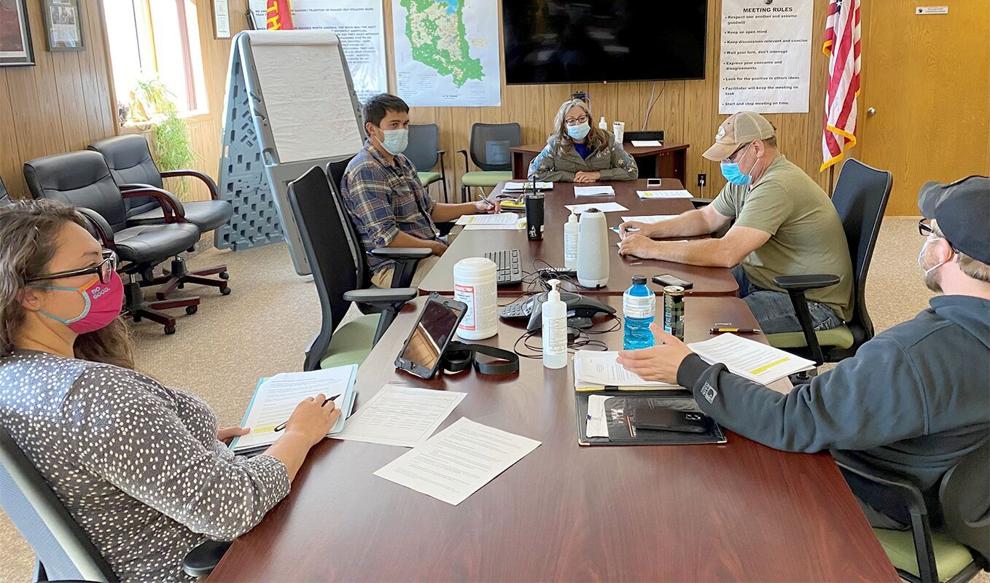 To inform people about this training, Camel sent out e-mail blasts, placed ads in the Char-Koosta News, and worked with CSKT's Information Technology (IT) Department to build a Tribal employment and business development website that lists available resources, job opportunities, upcoming events, links to the Indian Preference Office Business List, CSKT planning documents and a Workforce Training Directory with resources and training opportunities for job seekers. Check it out at www.cskteconomics.org. 
With help from entrepreneur training and twice annual networking meetings, at least 9 new Tribal member-owned businesses were created and 4 additional businesses expanded to offer more services. One new business owner found that networking with the teachers was very helpful as they were available at any time after the trainings for one-on-one follow-up questions and assistance. 
However, CSKT learned early on in the project that the higher unemployment rate of Native people on the Reservation was not just due to a lack of training.  The Workforce Enhancement Coordinator position, first filled by Selina Kenmille then by Jennifer Finley, needed to be connected to the whole community and understand Tribal resources to help meet the needs of participants.  Some project participants lacked consistent housing or were homeless, were re-entering the community after being incarcerated, needed counseling for mental health or substance use issues, or had not graduated high school. When possible, the Coordinator connected them to the services they needed, and even set up a Facebook page to inform tribal members about job and training opportunities.
The Coordinator met 1-on-1 with people interested in training and employment and worked with a total of 324 people to complete a career blueprint, a step-by-step guide for seeking employment or preparing for a desired career. The Coordinator helped some participants get an email address, write a resume, complete a job application, or sign up for training. 
Participants wanting to apply for jobs or work on a business plan, and who did not have a computer or the internet could use one of the two computer labs set up outside of the Economic Development Office and at S&K Business Services.  The labs were able to stay open during most of the COVID-19 pandemic through appointments with Coordinator Finley, who also  provided cell phones to participants seeking employment who did not have one, to help them follow-up with job applications and interviews. She and the Director also provided bus passes or gas cards to participants needing assistance with transportation to job interviews or newly obtained jobs.
According to ANA Project Impact Evalutator, Heather Gordon, the project really worked to meet people where they were at regarding training, technology, and applying for jobs, and then lift them up through offering more training, assistance with applications, tools needed to apply, and support through the process. While the project sought to bring people up to a living wage, this was difficult as many available Reservation jobs do not pay a living wage.
Students received assistance to cover many of the costs of the trainings and courses. The workforce and entrepreneur training classes were offered free of charge. The SEEDS grant also paid for textbooks, health care class "scrubs", interview clothing, or specific clothing needed for a participant's new job such as a uniform or construction work boots. The project was highly successful in holding trainings and classes even with the difficulties created by COVID-19 often forcing programming to be online instead of in person.
Due to the project, 53 people secured full-time or seasonal employment through participating in the project, and 5 more were able to increase their wages as a result of the offered trainings and certifications. 
"Our goal was to serve 160 tribal members during this five-year project, and we served a total of 709," said Camel, proudly. "We had an incredible team of Coalition members, instructors and staff."
http://www.charkoosta.com/news/five-year-employment-and-entrepreneurship-initiative-ends-exceeds-goal/article_17d21032-3d9e-11ec-b108-73ac3a615573.html